Skip to product information
Unless otherwise noted, videos are courtesy of YouTube.

* If you receive an error when viewing a video, please reload page. (known error with Shopify)
View:
Next Item
Previous Item
Apple
iPod Shuffle 1st Generation
The first generation iPod Shuffle was released by Apple on January 11, 2005 at the Macworld expo. It weighed 0.78 ounces, and was designed to be easily loaded with songs. It was basically just a thumb-drive and could be plugged straight into a PC to load songs. 
iPod  Shuffle 2nd Generation
The second generation iPod Shuffle was released by Apple on September 12, 2006. It was advertised as the "most wearable iPod ever" as it featured a built in clip for when you exercised. Although the iPod was aimed to ship in October 2006, it was delayed, and all units were shipped on November 3, 2006. This unit weighed .23 ounces lighter than its predecessor, weighing a record 0.55 ounces! In January 2007, Apple announced it would be making different colors of this model - pink, orange, green, & blue - in addition to its original silver color. The orange color was the first time an iPod has ever come in orange. 
Donation: Alan & Jeanie Sacks
iPod Shuffle 3rd Generation 
 The third generation iPod Shuffle was released by Apple on March 11, 2009. It was said by Apple to be "jaw-droppingly small" and that it was "the first music player that talks to you!" It was available in silver and black, making it the first iPod Shuffle model to come in black. It featured a polished-steel attachment clip for an easy exercise experience. 
Donation: Sean Brinkerhoff
iPod Shuffle 4th Generation

On September 1, 2010, just 5 days after Apple received a patent for the iPod Shuffle, Apple released the Shuffle 4th generation. This model had more of a square shape, and more closely resembled the 2nd generation. 
Donation: Donor from local "Gift Economy" Group
Discontinuation 
On July 27, 2017, Apple discontinued the iPod Shuffle line as well as the iPod Nano line. The iPod Shuffle was disliked by many people as you could not see the song that was being played because of a lack of screen. 
Share
View full details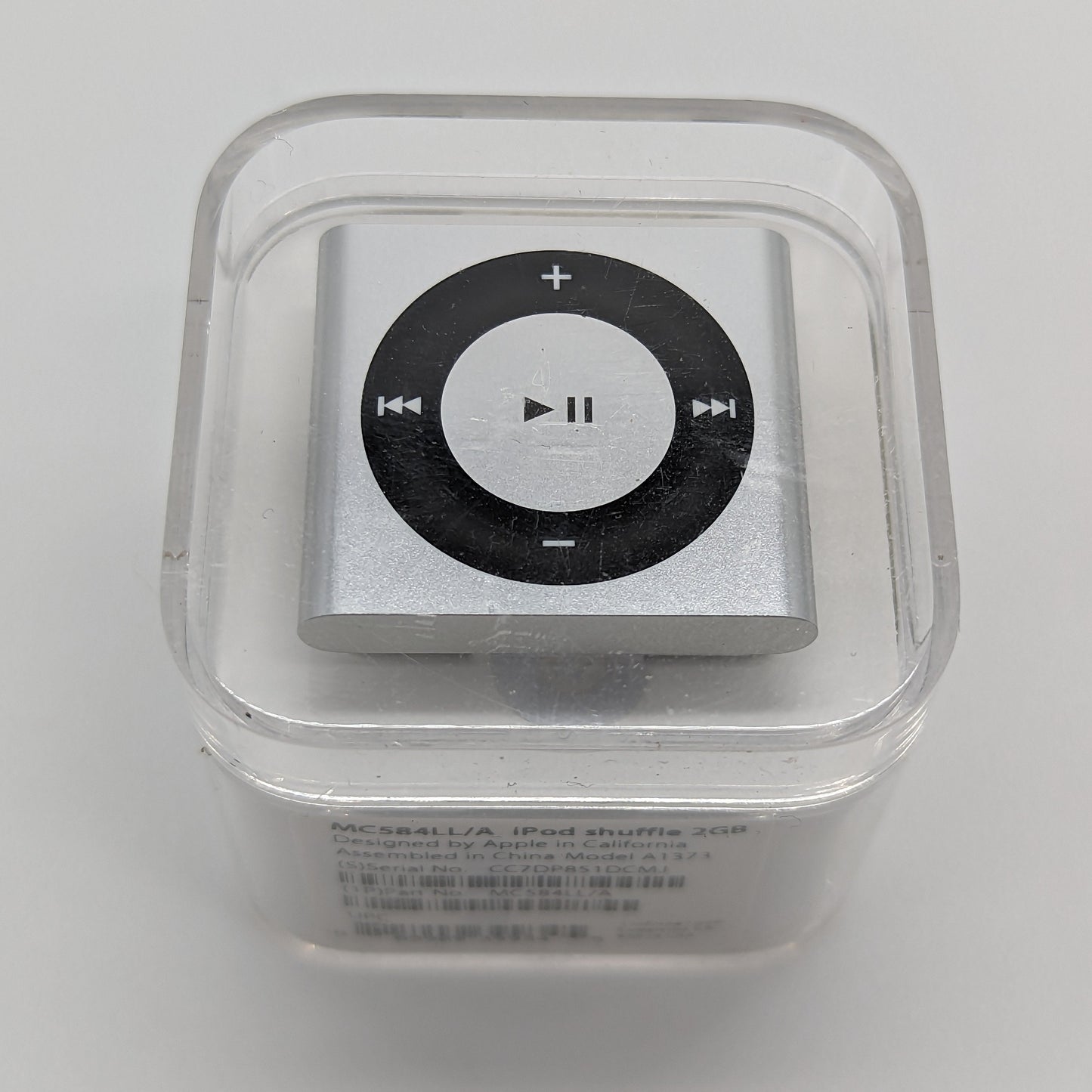 Does this item bring back memories?
Have some interesting fact or history?
Leave a comment or review for this item below!