View:
Next Item
Previous Item
Westport Tech Museum
Tandy 1000 EX 
The Tandy 1000 EX was released in December 1986 for a price of $1000. It featured a built-in 5.25" floppy disk drive. The 1000 EX was a lower-cost alternative to the Tandy 1000 along with the Tandy 1000 HX (released in 1987). It shipped with Microsoft MS-DOS 2.11. The Tandy 1000 EX and HX were the most popular and best-selling models in the Tandy 1000 line because of their low price and affordability. 
Gifted by:  George F. 
Share
View full details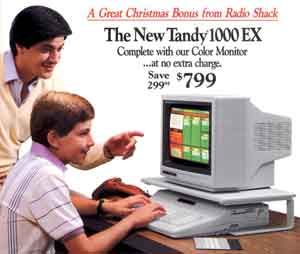 Does this item bring back memories?
Have some interesting fact or history?
Leave a comment or review for this item below!